On the 8th October 1977, 24 »tiny« 6.5m boats with only one skipper on board left the port of Penzance (England) for Tenerife and then continued sailing to Antigua. It seems a bit crazy – but that was the start of the now 42 year old Mini Transat. Two years later new boats were designed and built for this particular race. The Mini 6.50 became the most creative and innovative class. In 1985 the start of the race moved from England to France. Year after year more and more sailors have joined the Mini Transat.
The ambitious single-handed transatlantic race covers a total of over 4,000 nautical miles from France to the Caribbean (2,700nm) with a stopover on the Canaries (1,350nm). The exact route is redefined each time. For a long period the race was mainly in French hands and is now enjoying steadily growing international attention. More and more German sailors join the race.
In 2021 the Mini Transat will start in Les Sables d'Olonne (France), make a stopover in Santa Cruz de la Palma (Canaries) and finish in Saint-François (Guadeloupe).
Especially aspiring sailors may gain offshore experience and consider the successful participation a stepping stone for their career as professional sailors.
The sailing will take place in 6.5m boats – the Class Mini 6.50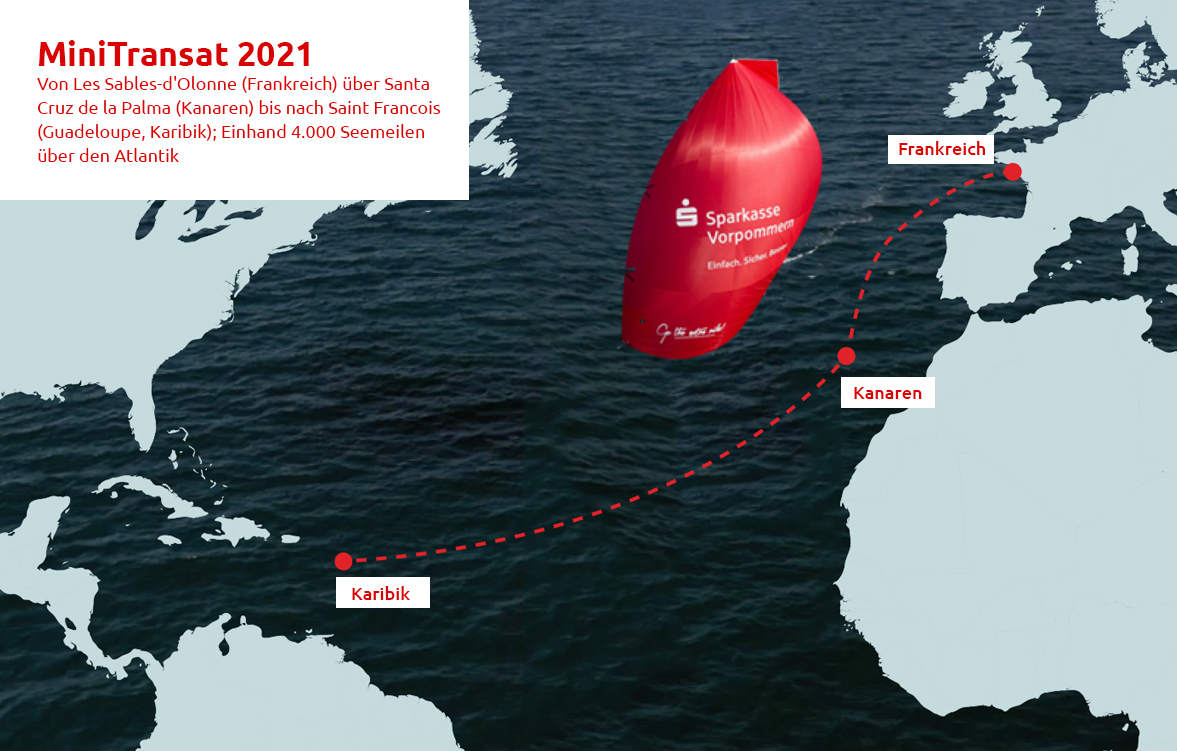 The qualifying conditions are demanding to guarantee the high standard of the field:
Successful completion of more than 1.500nm on Mini class races
At least 1.000nm single-handed nonstop on a predefined course across the Atlantic
Astronavigation
Survival seminars
➜ only those who are perfectly prepared have a chance at getting a spot
Across the open Atlantic on a high-performance boat just 6.5m long
No outside assistance
Satellite telephones, navigation computers and professional routing are not allowed.
The human performance is crucial
Back to the roots: Sextant, paper nautical charts, shortwave receiver
Physical and mental peak performance
No relay for 30 days
Non-stop in competition mode
Life at the limit
Boat – general information about the Class Mini 6.50
The Mini 6.50 is a real »sailing rocket« designed for pure performance. It is an outstanding offshore-boat developed and built specifically for use in rough conditions. There are two different types of Mini 6.50: the prototypes and those produced in series.
Serial boats are exclusively made of fibreglass, have aluminium masts and a draught of 1.6 m. Materials such as titanium, carbon fibre and epoxy resin are not allowed. Ten have to be built in order to be considered an official serial boat. Over 15 different serial boats are available, from the oldest Super Calin to the newest Pogo3 or Vector 6.50.
Serial boats guarantee maximum safety with outstanding performance at a comparatively low budget.
Prototypes are relatively free from these restrictions and have been considered to be ideal test objects for sailing innovations for years.
The canting keel (swivel keel), the daggerboards (centreboards) and unusually long Gennacker-Booms have first been tested on class Mini 6.5. New hull shapes with very wide water lines and foils (»hydrofoil«) are the latest innovations. Both designers and shipbuilders have always used Minis to test new ideas. Offshore Performance was born in Mini class!